***** Gift Certificate Available *****
If you have problems with Frozen Shoulder, Trapped-Nerves, Lower Back Pain, Circulation Blockage, Long Term Migraine, Suffering from Depression/Anxiety or Sleeplessness . You can find Traditional Thai Pressure-Point Massage known as Thai Acupressure Massage by Twickenham Green. We also provide various types of Thai massages to suit your needs.
Please Call: 07866 446660
Thai Acupressure Massage
It is involving the physical act of applying pressure to the body or specific areas, with thumb, finger, elbow, hand and a wooden stick techniques. An energizing treatment that helps you unwind using pressure points, stretching and deep tissue massage . Also improves flexibility and range of movement. Acupressure is essentially a method of sending a signal to the body to "turn on" its own self-healing or regulatory mechanisms. Normally, vital energy circulates through natural pathways in the body. Blockage of this flow can cause illness and pain. Acupressure helps to correct functional imbalances and restore the flow thus returning the body to a more natural state of well-being.
Kay's Technique
As a Thai Pressure-Point Specialist, I combined Thai Pressure Point massage and Thai deep tissue Massage together to maximise the benefit to the client.
Therefore in general, one hour massage session will be provided by first 20 minutes of pressure point massage, followed by some stretching and deep tissue oil massage. However, a massage session can be flexible to suit individual needs.
Thai Yoga Massage
The treatment is received fully clothed on a large supportive mat. Techniques are performed on client's hands, arms, shoulders, head, face, neck, back, feet, legs, glutes and abdomen. Suggested attire for receiving your massage are comfortable, stretchy yoga tights or baggy pants and a short or long sleeved t-shirt and clean cotton socks. During winter, the Thai Yoga Massage mat is heated for your comfort and blankets are provided. Before the session, your preference of customization of techniques will be discussed, i.e. often the clients prefer to have a combination of Thai Yoga Massage & Deep Tissue Massage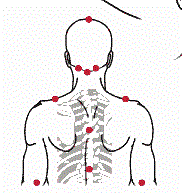 Back/Neck/Shoulder Massage
Focusing on areas of tension and helping to improve circulation, releasing aching areas and loosen the tightness, and also preventing frozen shoulder. Also it's involving the technique that apply pressure to the acute points or specific areas, with thumb, finger, elbow, hand and a wooden stick.
Thai Foot / Reflexology Massage
It is involving the physical act of applying pressure to the feet, with specific thumb, finger, and hand and wooden stick techniques. It is based on what reflexologists claim to be a system of zones and reflex areas that they say reflect an image of the body on the feet.
Thai Head Massage
Boosts circulation, improves focus and enhances concentration. Great for relieving stress in head, neck and shoulders, reduce headache, migraine, sleeplessness and sore-eyes symptoms
Acupressure Face Massage
The Thai Face Massage is based on stimulating on pressure-points that help to reduce tensions, tired lines, wrinkles and under-eye bag and follow by massaging the face muscles to help bringing oxygen to that area—which is a natural form of anti aging skin care in itself.
Also by massaging the face stimulates the lymphatic vessels and facilitates toxin elimination from the facial area. The lymphatic system plays a key role in health. Lymph is a clear fluid that removes toxins from the body. It's filtered through the lymph nodes and moves into the bloodstream, where toxins can be eliminated. Muscle movement is needed to push lymph fluid through the body. A lack of movement can result in a sluggish lymphatic system and a buildup of toxins. Many lymph nodes are scattered throughout the facial area, especially along the edge of chin and jawline.
Herbal Massage
Herbal Massage is a form of alternative medicine that uses volatile plant materials, known as essential oils, and other aromatic compounds for the purpose of altering a person's mind, mood, cognitive function or health.
Herbal Massage does reduce tension, stressed, muscle pain/ache and improve immune response, also mainly focus on relaxation and reduce anxiety.
The use of Herbal heated compresses is a traditional Thai therapy which dates back to ancient times, This technique offers several potential health benefits: It induces deep relaxation, relieves stress and fatigue, boosts both emotional and physical well-being, assists alignment and postural integrity of the body, improves circulation of blood and lymph and stimulates the internal organs.
Aroma Oil / Deep Tissue Massage
Deep Tissue Massage is the manipulation of superficial and deeper layers of muscle and connective tissue using various techniques, to enhance function, aid in the healing process, decrease muscle reflex activity, inhibit motor-neuron excitability, promotes relaxation and well-being and as a recreational activity
Deep Tissue Massage involves working and acting on the body with pressure – structured, unstructured, stationary, or moving – tension, motion, or vibration, done manually or with mechanical aids. Target tissues may include muscles, tendons, ligaments, fascia, skin, joints, or other connective tissue, as well as lymphatic vessels, or organs of the gastrointestinal system.

Please Note:
The treatment is strictly Traditional Thai Therapy only
Tuesday - Friday
11 am - 7 pm
Saturday
10 am - 7 pm
Sunday & Monday
Closed
30 mins £30
60 mins £55
90 mins £75 ( £10 discount applied)

120 mins £100 ( £10 discount applied)

Herbal Massage
60 mins £70
Buy 5 hours get 1 hour free
56
The Green
Twickenham
TW2 5AB
Twickenham Railway Station, Strawberry Hill Railway Station
Free Parking and Parking Meter
/